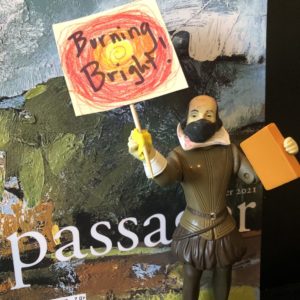 Shakespeare's Birthday
Celebrating Shakespeare's birthday with four pieces about writing, by Sarah Yerkes, Ruth Moose, Elizabeth Kerlikowske and James McGrath.
6 minutes | Transcript
TRANSCRIPT
This is the week most people celebrate Shakespeare's birthday. Ok, most people don't celebrate Shakespeare's birthday, but if they did, most of them would celebrate it this week. We're going to celebrate it with a few pieces about writing.
First, from her book Days of Blue and Flame, Sarah Yerkes's musing about Emily Dickinson, "Emily, Today."
If Emily were alive today
and obsessed with writing poetry,
would she still use skrips and scraps
and a yellow pad
or learn to use our circuitry?
Perhaps now she would bundle them.
Not sewing, she'd use staples,
or print them in a chapbook form,
with help from her computer.
Fair Amherst's no metropolis,
it's still a college town.
Would she be able to exist,
gardening and composing there,
dressed in a plain white gown?
"Emily, Today." Sarah Yerkes.
Next, two poems about typewriters. Remember typewriters? Here's one titled "Remington" by Ruth Moose that Passager published in its 2020 Poetry Contest Issue.
An old typewriter, black, square,
heavy as a house, each key
inked a word, reached out
for another word. I rolled
in paper, watched
the top of the sheet go
out of sight, come up,
face me white and ready,
fresh, eager as light.
I learned the names:
platen, back space, space
bar, margin, return slam,
shift, ASDF,JKL;
Made the quick brown fox
jump over all the good men
who came to the aid
of their country.
How to Learn to Type
by my left hand,
carbon paper, eraser wheel
with steel brush, my young
writer self made magic
throwing the carriage return
thumb
on the space bar,
clack, click, clack,
spooled ribbon marking,
making a road
in my life.
Ruth Moose's poem "Remington."
Elizabeth Kerlikowske said, "Playing the piano as a child transferred to lightning quick typewriter, then keyboarding skills." She said, "I loved the rhythm of the first sentence I ever typed: 'The quick brown fox jumped over the lazy dog.' I started playing with it one day, and it grew."
Here's the poem it grew into: "I Get a Typewriter for My Tenth Birthday" from Passager's 2010 Poetry Contest Issue.
My quick brown socks jumped into the crazy fog.
My tricky silk socks crumpled to the hazy shore.
My milky silk socks rumpled in the amazing drawer.
Her silky milk sacks rustled over the mosaic floor.
Her thick milk shakes hustled through the kitchen chores.
Her prickly corn shocks bustled into the kitchen door.
Her pickled corn pones busted out the oven door.
His slick down vest clashed with he usually wore.
His strictly clown chest stumped the deer with its snore.
My stick thin legs thumped through the maze of logs.
My quick thin legs stomped above swamps of frogs.
Her sticky brown rolls plumped until a cook was born.
Her picnic thrown hair frumped into a crazy storm.
My tick-blown locks bumped against the praise of horns.
His brick red hair clumped over his lazy ears and then
the quick brown fox jumped over the lazy dog.
Elizabeth Kerlikowske's "I Get a Typewriter for My Tenth Birthday" from Passager's 2010 Poetry Contest Issue.
Finally, a Pandemic Diary entry that James McGrath sent from Santa Fe.
The most positive part of my safety net as a writer during this virus-time is to write with fellow poets via the telephone. At a scheduled time, I telephone my poet friend. We check-in, share a poem we wrote the past quiet week. We may read a poem of a poet we like, Neruda, Nye, Harjo, etc. and will write from the inspiration that poet/poem gives us. OR we may wish to write from a writing we wish to continue to explore. We hang up, write for 20-25 minutes, telephone, share what we have written with little or no appraisal or commentary. We continue this process for as long as we have scheduled it. With Morgan Farley, our time on Thursday is 2 hours. With Cynthia West, our time on Tuesday is 3 hours. With Catherine Ferguson, our time on Saturday is 6 hours. This is how we share our social writing time without a mask.
That from James McGrath.
To buy Sarah Yerkes' book Days of Blue and Flame or Passager's 2010 or 2020 Poetry Contest Issue or to subscribe to Passager or to learn more about Passager and its commitment to writers over 50, go to passagerbooks.com. You can download Burning Bright from Spotify, Apple and Google Podcasts, and various other podcast apps.
For Kendra, Mary, Christine, Rosanne, and the rest of the Passager staff, I'm Jon Shorr.