Yerkes investigates subjects closest to her heart — childhood, family, travel, aging, art — with, as poetry teacher Bonnie Naradzay says, "absolute clarity."
Praise for Days of Blue and Flame
Sarah Yerkes' Days of Blue and Flame is a message to future generations whose world we have mottled with lasting trauma and ecological scars; but hers is a calm and generous voice of deep intelligence and compassion. As she imagines Dickinson alive today, writing her poems in chapbooks rather than sewn fascicles, Yerkes herself sews a pre-nuclear America to the computer age, and she leaves space enough for our pages, and our children's pages, all the stories yet to come.
David Keplinger, Another City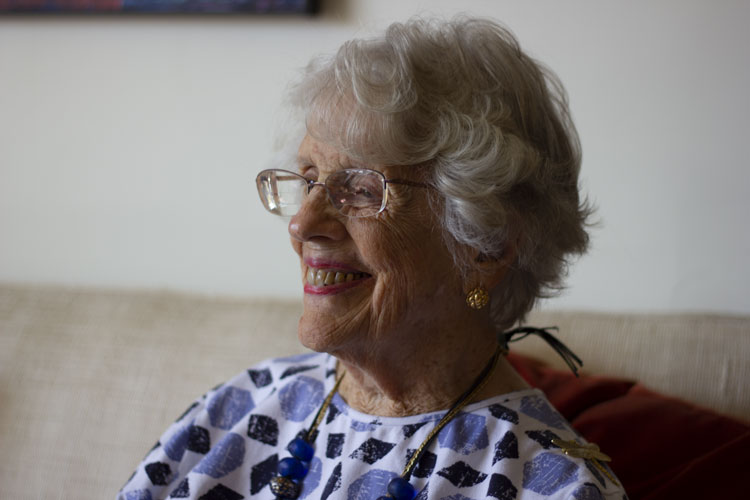 About the Author
Sarah Hitchcock Yerkes was born in 1918 in Portland, Oregon, where her father had been sent to remove giant spruce trees from the Northwest forests to make WWI airplane propellers. Once the war ended, the family returned to their home in Cleveland, where Sarah grew up. Sarah studied at the Boston Museum School, the Cambridge School of Architecture and Landscape Architecture, and Harvard's Graduate School of Design, and was one of the first women to complete a degree in architecture from Harvard. Since 1945, Sarah has lived in Washington DC. In addition to her professional life as a landscape architect and sculptor, she was a student, a trustee for over fifteen years, and interim dean at the Corcoran Galleries and Museum. In her mid-nineties, Sarah turned seriously to poetry when she joined a poetry workshop at her retirement community, Ingleside at Rock Creek. She is mother to three, grandmother to nine, and great grandmother to thirteen children.
Celebrating Sarah Yerkes' 104th birthday with a reading by the poet herself. Recorded April 2022.
Sarah Yerkes shares what led her to poetry at age 96.
Yerkes' Sculptures