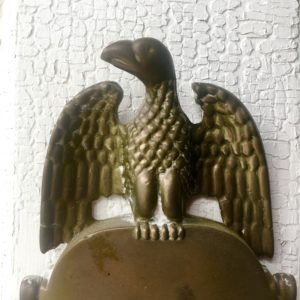 Immigrants: What We Carry With Us
On this episode, the old country and the new country, with pieces by Diana Anhalt, Zeina Azzam and Judith Krummeck.
6 minutes | Transcript
TRANSCRIPT
On this episode, the old country and the new country.
Diana Anhalt's poem "When Our Shoes Take Us" begins with these words from her grandmother:
"Jews should be born with the wind at their backs
and wheels on their heels like taxicabs."
If we fled Sevilla, Uzbekistan, Podolia, Kiev on a day of sun,
we'd sling our shoes around our necks by their laces, relish
the prickle of grass against our naked soles, let our feet scrawl
messages in the dust of left-behind lives.
We saved what shoes we had for snow, gravel, seemliness.
Our featherbeds, a Kiddush cup, a violin, perhaps, we strapped
to our backs and the stories of ancestors — their feet caked
in the clay of Judea, Canaan, Goshen, Galilee — rode
on our tongues. Our fate? To change nations more often
than shoes, store the past's crumbs in our pockets. To leave
our children small things that fit into suitcases: a menorah,
a teapot, a cameo brooch, photo of somebody's grave.
Look, a clutch of letters, the scent of memories. No pianos,
no grandfather clocks, no grandfathers. A pair of shoes.
"When Our Shoes Take Us" by Diana Anhalt from Passager Issue 60.
Zeina Azzam grew up in an immigrant family of Palestinian Arabs. She said, "Though my mother was open minded, she had traditional expectations of me as a girl and woman. I feel that now, I have the power and liberty to embrace the traditions and gender roles that resonate for me."
Here's her poem, from Passager Issue 70, "Learning to Make a Bed."
My mother taught me how to make a bed
when I was so young I could barely reach
the mattress while standing. We would walk
from side to side to pull and push the unruly
sheets and make sure the blanket was tucked
over everything — like a protective father,
I imagined. Of course, neither my father nor
my brothers ever made their beds because
it was women's work. And so I was taught
what women did and didn't do early on.
I followed my mother's movements in the
kitchen and accompanied her to buy bananas
and grape leaves and rice. She showed me how
to pick stones out of bowls of lentils and beans.
I imitated my mother as she made Arabic coffee
on the stove then offered trays of sweets to guests.
We decorated date cookies with jagged-edged
tweezers to make patterns in the dough.
During olive season we sat on the floor with hammers,
smacked each olive to open it up before pickling.
I watched my mother chop and place cucumbers
and eggplants in brine. Together we picked leaves
of mulukhiyyeh from oversize green bouquets
my father brought home from the souk. In my
girls' school I was shown how to place a wooden
egg in a sock for darning, sew a button, even
embroider with bright threads — all before I was
ten years old. With brothers much older, I had
no idea what boys learned each day. But I wanted
to be like them and run around the house without
a shirt. I did that one day when I was seven and
everyone smiled smugly at me, as if I would learn
on my own not to do it again. And I learned.
Like making a bed, I figured out what should
be covered and tucked in and out of sight,
how to make things right and good, that these
ordinary acts were daily reminders of some
thing that was bigger, one I didn't yet understand.
Zeina Azzam's poem "Learning to Make a Bed" from Passager Issue 70.
Baltimore public radio announcer Judith Krummeck immigrated to this country from South Africa in the late 1990s. Here are some excerpts from her essay "Things I Didn't Expect."
I didn't expect to receive such a warm welcome; the fresh-faced young man with his military hair-cut courteously calling me by name and leaving his post at the passport control desk to escort me to an office in the nether regions of Dulles International Airport. The matter-of-fact approach of the taciturn immigration officer there was more what I had expected, the way he unceremoniously ripped open the immigration package that I hadn't let out of my clutches since it was sealed and handed to me at the American consulate in Johannesburg. I had anticipated the heart-in-the-mouth sensation as I watched him glance perfunctorily through the contents of my package — just another day and another immigrant for him, but a hanging-in-the-balance day for me — before finding them in order, and scrawling left-handedly on the red stamp he made in my South African passport to grant me "lawful admission for permanent residence to the United States." The euphoric flood of relief was only to be expected . . .
I didn't expect the nickel to be bigger than the dime . . .
I anticipated that becoming an American citizen would be momentous. I didn't expect it to be quite so emotional. I was surprised by the flush of delight the first time a passport control officer looked over my new American passport and said, "Welcome home."
Excerpts from "Things I Didn't Expect" by Judith Krummeck from the Winter 2014 issue of Passager.
To buy any of the Passager issues featured in this episode, subscribe to, or learn more about Passager and its commitment to writers over 50, go to passagerbooks.com. You can download Burning Bright from Spotify, Apple and Google Podcasts, and various other podcast apps.