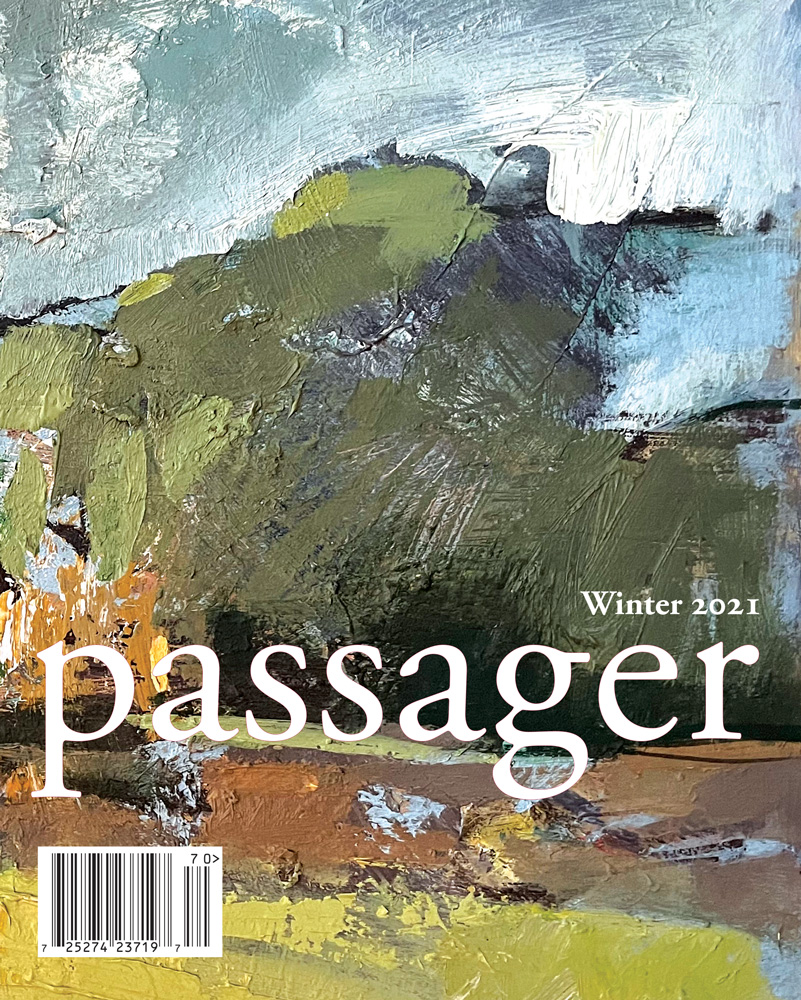 Poetry, Fiction & Memoir
Soft cover | 176 Pages | $15
Welcome to the winter of 2021 and a world that keeps challenging us to stay grounded and hopeful. Passager's 70th issue begins with a "Pandemic Haiku" series where Philip Allen addresses us as "Zoomlings" and writes of quiet cars no longer going anywhere and essential workers at risk. We hope you will find good companionship in these pages.
Contributors
Poetry:
Philip Allen
Pandemic Haiku
Charles Angione
On Losing a Child to Fire
Zeina Azzam
Learning to Make a Bed
Regina Dilgen
Roll Call
Georgia Gojmerac-Leiner
The River Kupa
Pat Hale
Wandering Through a Field of Rabbits
Janis Harrington
To My Bereaved Sister
Wendy Hoffman
Marmalade [read, above]
Tom Holmes
After Nine Dark Months and Waiting for the Spotlight [read, above]
Ruth Holzer
His Fish
Danuta E. Kosk-Kosicka
Stay at Home
Chuck Madansky
Anniversary
James McGrath
Who Do I Ask
AJ Oppenheim
I Look Back
Michael Salcman
No Translations for Love
Anne Sheldon
When I'm 93
Katherine Williams
April 2020 [read, above]
John L. Wright
What Poetry Taught Me About Hope
Prose:
Michael Brodin
My Heart Belongs to Medtronic
Mark Harris
Chicken Soup [read, above]
Nancy Smith Harris
Carrie
Gene Jeffers
Loaded Question
Bill Jones
First Wednesdays
Sara Kersting
Enough Time
Elaine Logan
For Your Trouble
Marc Morgenstern
Splatter
Arthur Rivkin
Adolf and the Devil
Judith Sanders
Velvel
Dian Seidel
Pathumthani Tales [read, above]
Bill Smoot
Bobby Miller's Fall
Mary Azrael, Kendra Kopelke, editors. Rosanne Singer, guest editor. Christine Drawl, managing editor. Shirley J. Brewer, Sylvia Fischbach-Braden, editorial assistants. Pantea Amin Tofangchi, design. Afshin Nikravesh, cover art.