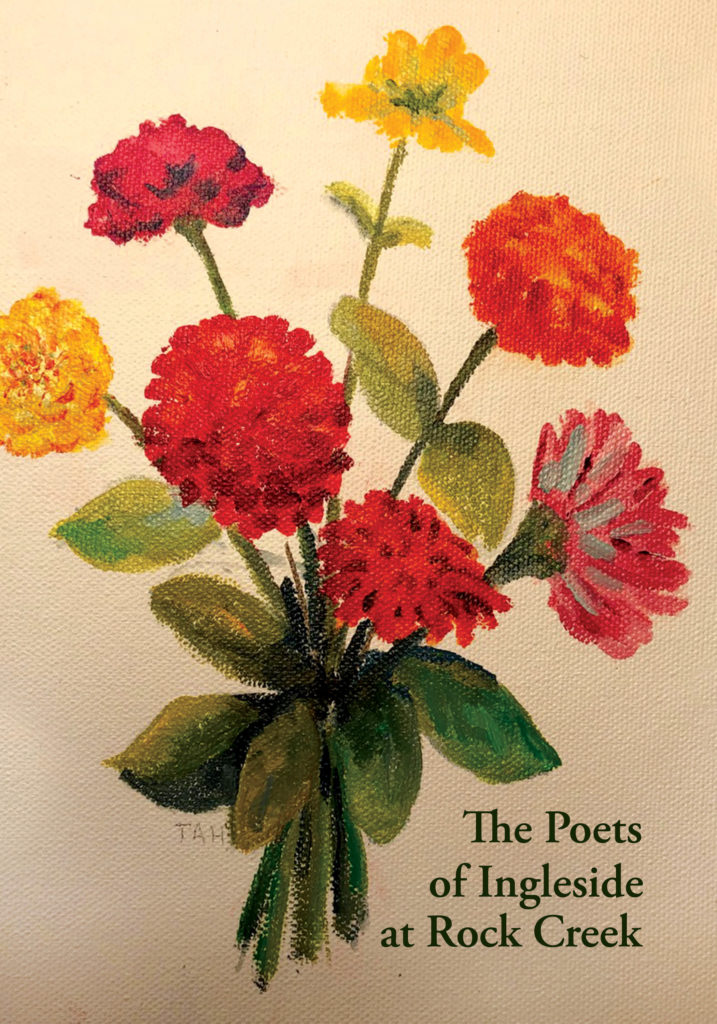 Poetry | Soft cover | 140 pages | $20
About the Book
This collection includes poems by current and former participants in the poetry sessions at Ingleside retirement community in Washington, DC.
From their instructor:
Getting to know the poets of Ingleside (may their tribes increase) has been a constant source of joy and inspiration for me. As you encounter these stunning poems in a variety of forms as well as in free verse – and the amazing array of subjects – may you be inspired as well.

Bonnie Naradzay, Salon Host
About the Poets
Paul Armington was born in Euclid, OH and lived there until he was 15, when his family moved to Ventura, CA. He did his undergraduate work at Swarthmore College and earned a PhD in Economics from the University of California Berkeley, after a year as a Brookings Fellow, where he examined theory and policy of international trade. Paul started his career at the International Monetary Fund and continued with various organizations in economic research and forecasting, including Wharton Econometric Forecasting Associates. In 1981 he created a foreign exchange advisory service. In the 80s and 90s he worked for the World Bank before retiring in 1999 to co-found WILMA Inc., a private foundation in Washington DC whose focus is on building capacity for leadership and management of development in Africa.
Mona Berman was an actress, playwright, theatrical director and producer as well as a poet. She graduated from Beaver College and earned an MFA in speech and drama from Boston University. A member of Actors' Equity, Mona performed in movies and on stage and television. Deeply interested in the education of children in the theatrical arts, she was the founder of the Theatre School and Producing Company of Maplewood, NJ and the artistic director of the Children's Theatre Company. She also wrote several plays, including Interim and Actual Malice, as well as musicals Hello Joe and That Ring in the Center. She was active in philanthropic and community affairs, serving as Chair for the Boston area of the United Fund. She was married for over 50 years to Carroll Zachary Berman, a physician and professor of medicine, and they are survived by their two daughters and their grandchildren.
Thompson Buchanan's 2011 memoir Mossy Memoir of a Rolling Stone tells the story of his adventures as an intelligence officer in the Foreign Service during the Cold War, but also of his 72-year marriage to the beautiful and charming Nancy. Tom was master of the well-turned phrase and the irresistible sly grin when he delivered a particularly witty line. Tom was a prolific poet and early member of the Ingleside Rock Creek poetry group, where he shared abundant and varied poetry in a wide variety of voices and topics. Tom's vision and hard work helped create Buchanan's Brae, a scenic trail in Ingleside's ravine. The Buchanans are survived by two children who continue their parents' interest and support for Ingleside activities.
Celia Crawford grew up in Washington DC and graduated from Vassar in 1958. She taught high school English for four years and in 1978 earned an MA in Literature from American University. Celia says, "My family always loved poetry – reading it and writing it, especially occasional verse (birthdays, Christmas, anniversaries). I wrote my first poem when I was five: And then my glass went sailing by/Until the buttons touched the sky. But I had stopped writing poetry for about 75 years by the time I moved to Ingleside. Then I met Bonnie."
Lynn Wood Dizard was born in Pennsylvania in 1921 to a Presbyterian minister and psychologist. She attended Mt. Holyoke College, where she joined the Navy ROTC. She married Wilson Dizard in 1943 and shortly thereafter became the confidential secretary for the Chairman of the New York City Board of Education, where she worked for six years before Wilson joined the Foreign Service. They served in Turkey, Greece, Pakistan, and Poland. Lynn worked as a columnist for newspapers and, after returning to Washington, taught children in DC as well as ESL to new immigrants. In her later years, she worked with the Institute for Learning in Retirement. Lynn started the tradition of the semi-annual Poetry Reading event at Ingleside many years ago.
Natt Dodge, father of Judy Dodge of Ingleside, was born on Cape Cod in 1900. He studied agronomy at Colorado A&M, where an English teacher, Ms. Waddles, "lit his writing fire." He credited Ms. Waddles with changing his life. During the Depression he was unemployed and supported himself writing and selling magazine and newspaper articles. After the Depression Natt was hired by the National Park Service for three summers as a seasonal ranger before being assigned to a permanent job at the Grand Canyon. He spent the remainder of his career as a naturalist with the Park Service. He continued to write poetry, one year publishing with his wife a volume of poetry as a Christmas card for family and friends.
Nadine Dutcher worked in international education. She retired from the World Bank and the US Agency for International Development. She has lived in Ingleside at Rock Creek for two years. "Grief " is her first poem. She wrote it after the death of her partner of 25 years.
Tucker Harris (cover artist) is an accomplished artist and long-time resident of Ingleside at Rock Creek. After raising three sons, she earned an MSW degree at Catholic University and pursued her interest in work with emotionally disturbed children and their families, as well as older adults. She has been active in St. Mark's Episcopal Church on Capitol Hill and has run the Ingleside recycling program, as well as working to raise funds for the Ingleside Westminster Foundation. In retirement she has taken up painting and painted the cover for this anthology.
Elinor Horwitz grew up in New Haven, CT and was educated at Smith College. After marrying a neurosurgeon-in-training during her senior year at Smith and later moving to Washington DC, Ellie became a freelance journalist, contributing articles for The Washington Star, The Washington Post, The New York Times, and magazines including Harper's Bazaar, Washingtonian, and McCall's. While raising three children, she also wrote a dozen books for children and young adults. Ellie always loved poetry, but her verse writing was limited to the doggerel she composed for birthdays and anniversaries. In 2016, when Ellie moved to Ingleside, she joined Bonnie Naradzay's poetry workshop and finally began writing poems.
Bunty Ketcham moved to Ingleside from Chevy Chase, MD, where she had lived for more than 50 years. Her husband, a lawyer and federal judge, died in 2004. She was trained in Applied Behavioral Science and has worked as an independent consultant in organizational development for 25 years. One of her most memorable contracts was to study the quality of life in three retirement homes for reports to the Boards of Trustees. Bunty has worked in leaded glass and teaches mosaic artwork in the Ingleside Art Room. Her other interests include choral singing and play reading. Her second husband, Mort Schussheim, died in 2014.
Ted Lockhart, a native of St. Petersburg, FL, was a member of the New England Conference of the United Methodist Church. He published a volume of his poems entitled Before Blackness, Lying after Truth, In Rabbitude & Other Poems; it is available at Amazon.com.
Marcia Loughran, daughter of Cameron and Betsy Sanders of Ingleside, holds an MFA in Creative Writing from the Bennington Writing Seminar (2013). Her work has appeared in The New York Times, Verdad and Spoon River Poetry Review. Her first chapbook, Still Life with Weather, won the 2016 Watersedge Poetry Chapbook Prize. Her second chapbook, My Mother Never Died Before, won second place for the Poetry Box Chapbook Prize in 2020. Marcia reads in bookstores, bars and black box theaters in New York City and the Catskills; she is a regular participant in the Irish American Writers and Artists' Salons. She is a nurse practitioner and lives in Queens.
Jean Lutterman was born in Brill, WI and earned BA and MA degrees in music from the University of Wisconsin-Madison. An outstanding pianist, music teacher, and composer, she moved with her husband, Kenneth, and their children to Maryland in 1968 where she served as the Director of Music at Norwood School and gave private piano lessons. In 1979, she won a grant from the National Endowment for the Humanities to create musicals that would teach children an inclusive history of the US, ensuring that the history of all people that make up the US would be recognized. These performances raised money for homeless shelters.
Henry Morgenthau published his first book of poems, A Sunday in Purgatory (Passager Books), when he was 99. His memoir, Mostly Morgenthaus (Plunkett Lake Press), won the Jewish Book Council prize for non-fiction. Henry worked as a producer and writer for WBGH in Boston, where he received awards for his pioneering documentaries and talk shows. Perhaps the best known is the series he produced entitled Eleanor Roosevelt: Prospect of Mankind, which she hosted during the last three years of her life. It was Henry's friendship with Bonnie Naradzay that brought Bonnie to Ingleside to teach poetry in 2015.
Bonnie Naradzay taught English as a Peace Corps volunteer in India in the early 70s after earning an MA in English literature from Harvard. During her career in the federal government, she earned an MFA in poetry and then an MA from the St. John's College Graduate Institute in Annapolis, MD. In 2010, the University of New Orleans MFA program awarded her a month's stay with Ezra Pound's daughter Mary in her castle in Dorf Tyrol, Italy. Bonnie's participation with the poets of Ingleside has proved to her that poetry can lead to life-changing experiences and to cherished friendships.
Susanne Newberry was born in New York in 1927 and graduated from Smith College, majoring in Government. She later studied at the Sorbonne in Paris, where she worked for the US Information Service. Back in New York, she worked as a journalist with the Christian Science Monitor covering the United Nations. She married Daniel Oliver Newberry, a Foreign Service officer; they served in Laos, Iran, Turkey, Morocco, and Bangladesh. After her retirement, she was a docent for the Textile Museum, supported the American Research in Turkey (ARIT), and volunteered at the First Church of Christian Science in Chevy Chase, MD.
Dan Pence (cover photographer) produced the digital rendition of Tucker Harris' floral oil painting for the cover. He has contributed to the life of the Ingleside community in part through sharing his photographic skills. Dan's career in business-oriented computer services spanned more than 35 years, during which he gained expertise in digitizing archival documents, maps, photographic prints, and transparencies; processing and enhancing the resulting computer-based digital image files; and creating fine-art prints from digital images.
Ann Quinn, daughter of Jim and Molly Quinn of Ingleside, is a poet and essayist, editor, teacher, mother, and classical clarinetist. She holds an MFA in poetry from Pacific Lutheran University. Her book of poems, Final Deployment, was published by Finishing Line Press in 2018. She has also published her work in Potomac Review, Little Patuxent Review, Beechwood Review, Haibun Today and Snapdragon. She is a Pushcart nominee and first place winner in the 2015 Bethesda Literary Arts Festival poetry contest. She conducts writing workshops and music camps, volunteers in schools and libraries, and plays in a symphony orchestra. Ann lives in Catonsville, MD with her family.
Molly Quinn is new to the study and writing of poetry, crediting Bonnie Naradzay with teaching her more about poetry than did anyone in her undergraduate English major. After finishing her PhD in Developmental Psychology, she began her practice with the Indian Health Service while she taught psychology at the College of Santa Fe. The American Council on Education sponsored a program which afforded Molly a Fellowship to serve in the federal government, an honor which led to her position as Special Assistant to the Director of the NIH. Molly published widely in professional journals for more than 20 years and pursued psychoanalytic specialty training to augment her work with chronic pain patients at Georgetown Medical Center and in private practice.
Barbara Stout was born in Indianapolis, IN. After her marriage, Barbara lived in New York, Chicago, and finally Washington DC. She earned an MA in English at American University and began work on a PhD, but then accepted a teaching position at Montgomery College and later served as Chair of the Rockville Campus English Department, where she taught writing, literature and ESOL. She published articles in professional journals and collaborated on a textbook. After retirement, Barbara volunteered as a reading tutor in the DC public schools and worked with the Broadmoor Housing Cooperative. She was a member of the League of Women Voters and the Women's National Democratic Club of DC.
Tom Street was born in 1917 in Cleveland but later lived in Washington DC. He graduated from Western High School and in 1938 from Oberlin. His father's love of poetry led to mandatory readings of poetry at the dinner table. In 1940 he went to work for the Department of Agriculture; he was then drafted and landed at Normandy seven weeks after D-Day in 1944. Later, he was wounded in Utrecht, but recovered and was sent to Versailles to assist with food distribution. Back in the US, he resumed his work with the Agriculture Department. There he served as assistant attaché, then attaché, in India and Switzerland before becoming the US attaché in Paris. Tom died in 2008 ten years after his wife, Judith.
Ted Truman is an international economist who has taught at Yale, Amherst, and Williams Colleges but spent most of his career in Washington DC. He has served at the Federal Reserve Board, Treasury Department, and Peterson Institute for International Economics. Currently he is a senior fellow at the Mossavar-Rahmani Center for Business and Government at Harvard's Kennedy School. Ted and Tracy moved to Ingleside in 2012. Ted began to write poetry in 2015 and joined the Ingleside Poetry Salon soon thereafter. He is grateful to Bonnie Naradzay for her leadership, wisdom, and graceful inspiration.
Linda Willard was born in Philadelphia and went to Swarthmore, where she met her husband, Daniel. They had two sons and settled in Washington DC. She was an avid hiker, her routes including much of the Appalachian Trail. Linda had an amazing memory for poetry, often turning favorite poems into dog-related parodies. In their youth she and Dan sailed the Chesapeake. She earned a BA in Business Administration and a law degree from Georgetown University; she used her training to do pro bono work in both accounting and law.
Barbara Williams was a piano accompanist of the Ingleside Singers and an artist. Her artwork was shown regularly in a DuPont Circle art gallery. Earlier in her life she earned a PhD in Genetics from Penn State and held a post-doctoral fellowship in Human Genetics before serving as an adjunct professor at the Johns Hopkins School of Medicine in the 80s. Later, she was a founder of Research Integrity in the Department of Health and Human Services where she served as Deputy Director.
Sarah Yerkes was born in Portland, OR, but grew up in Cleveland. She studied at the Boston Museum School, the Cambridge School of Architecture and Landscape Architecture, and the Harvard Graduate School of Design. Since 1945, she has lived in Washington DC, where she practiced landscape architecture and later worked as a sculptor. She was a student, a trustee for 15 years, and interim dean at the Corcoran Galleries and Museum. Sarah turned seriously to poetry in her mid- 90s and in 2019, at the age of 101, published a book of poems, Days of Blue and Flame (Passager Books).