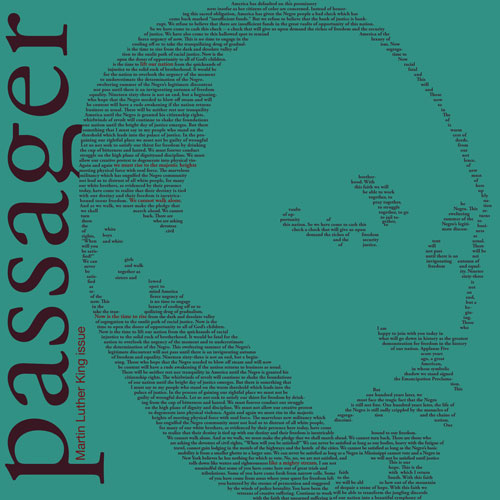 Celebrating the life of Dr. Martin Luther King with pieces by Margaret Rozga and Eugenia Collier, from Passager's special Martin Luther King issue, published in 2008.
6 minutes
TRANSCRIPT
This episode celebrates the life of Dr. Martin Luther King with pieces from Passager's special Martin Luther King issue, published in 2008 to mark the 40th anniversary of his death.
Margaret Rozga says she creates poetry from her ongoing concern for social justice issues, issues that include fair housing, women's rights, and racial injustice. In the early 1960s, she went to Alabama to help Black citizens gain their right to vote. At the end of their orientation period, they were waiting to be driven to their assigned communities. Here's an excerpt from her essay "Voting Rights, but First Mrs. Abernathy's Chicken."
Project director Hosea Williams announced that those of us waiting should step outside; we'd see Dr. King there, and King would lead us down the street to Rev. Abernathy's church where Mrs. Abernathy was cooking our lunch.
Dr. King and those in the front paused and turned around to make sure the volunteers had picked up their cue and knew to follow. He took off his jacket and draped it on his arm. He wore a short sleeve shirt. Even so, his face was damp with perspiration. So were ours…
Dr. King began to move again, but he kept turning to look behind him. He craned his neck, looking at the stream of people behind. I followed his glance and saw what I thought were a lot of people headed toward Mrs. Abernathy's lunch. The line extended perhaps a half a block behind me, maybe a hundred people, enough so that we needed to be in the street as we were and not up on the sidewalk. Yet this was clearly only a fraction of the volunteers.
Without slowing down at all, Dr. King leaned forward and asked those alongside of him, "How many people did we say?"
I didn't hear who answered or what the answer was. But King replied, "That's what I thought. Look. We don't have that many."
Several of the men with King in front glanced backward. "Oh, well," one of them said.
"Oh, well? Oh, well, nothing. She got up a whole crew. Been cooking all morning. Mrs. Abernathy is going to be mad at me."
We were about to walk under a pedestrian overpass. King looked up, saw people there, slowing, looking at the line of us, perhaps wondering if we were demonstrating about some issue. King called up to them, "Hi. How you doing there? We're going to Rev. Abernathy's church. Mrs. Abernathy's cooking chicken. Y'all come on now and join us."
He turned then to some people on the sidewalk. "Come on along for lunch. Mrs. Abernathy's cooking chicken." And so we continued down the street.
"Hey, y'all," and a giant arc of Dr. King's right arm invited in still more spectators. Students, men, women, children on the sidewalks stepped down onto the road and followed this Pied Piper to lunch.
By the time we were at the church, the crowd of people had more than doubled. We sat on metal folding chairs at long tables. Women in white uniforms, women in cotton house dresses, moved in the narrow spaces between tables. The aroma of fresh fried chicken permeated the air. We filled our plates, gasped as the steam escaped when we bit into a drumstick. We swallowed sweet iced tea in large gulps. Mrs. Abernathy's crew saw not only their fried chicken, but their beans, potato salad and coleslaw all disappear. It was the best meal we had all week.
. . .
An excerpt from "Voting Rights, but First Mrs. Abernathy's Chicken" by Margaret Rozga.
92-year old Eugenia Collier was a young faculty member at Morgan State College in Baltimore when she met Dr. King. She said…
. . . He was to speak at a special impromptu assembly on campus. I was hurrying to my classroom to leave a message on the blackboard telling my students to come to the auditorium to hear him when, just across the way, strolling toward me, I spotted Morgan's President—and walking with him was Martin Luther King! I was by nature shy and withdrawn, but something propelled me from the path, to Dr. Jenkins' side. He grinned and introduced me. Dr. King smiled and extended his hand. The touch of hands was an electric moment. I was in the presence of one who was willing to die for what he believed. That is an awesome, almost overwhelming realization.
. . . Afterward, I returned to my classroom to find a number of my students waiting for me to resume our usual routine. For once I was angry with them for coming to class. What could I have taught them that was anywhere near as important as what they would have gotten from being with him?
. . . I wanted Martin Luther King to be ours exclusively because we needed him so desperately. But the years have taught me that he belonged to the world, that he spoke for us all.
. . .
Excerpts from Eugenia Collier's essay, also published in Passager's special Martin Luther King issue in 2008, marking the 40th anniversary of his death. That issue is available digitally on Passager's web site.
You can learn more about Passager and its commitment to writers over 50, go to passagerbooks.com. You can download Burning Bright from Spotify, Apple and Google Podcasts, and various other podcast apps.
For Kendra, Mary, Christine, Rosanne, and the rest of the Passager staff, I'm Jon Shorr.