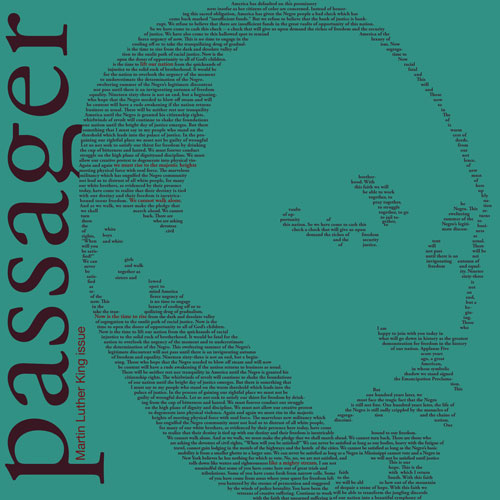 Poetry & Memoir
Soft cover | 82 Pages
This issue is dedicated to the memory of Martin Luther King, Jr. who was killed in Memphis in 1968. The cover, created from the words of King's "I Have a Dream" speech, was designed by Pantea Tofangchi, then a recent immigrant to the US from Iran. She listened to the speech over and over as she worked on the cover, she said, and felt like she was participating in history, deepening her connection to this country. 
This issue is free to read online in full.
Contributors
Poetry:
Mary Jo Balistreri
"Black Manhattan"
Ewing Everett Carruthers
"In the Funeral March of Martin Luther King"
Simki Ghebremichael
"For Coretta"
Kathleen Hellen
"Anthem at Graduation"
Dawn Huntley Spitz
"The Colors of 1940"
Kathleen O'Toole
"Small Comfort"
Laurence Snydal
"The Assassination of Dr. King"
Jennifer Wallace
"A Slow-filling Cloud"
Prose:
Barbara Ann Adams
"Faces at the Fence"
Linda I. Brown
"Audible"
Art Cohen
"April 1968"
Kathleen Corcoran
"Dr. Martin Luther King, Jr.: A Nigerian Perspective"
Tillie Friedenberg
"To My Fellow Poets"
Joan Lester
"On the Road with My Sleeping Bag and Fannie Lou Hamer "
Margaret Rozga
"Voting Rights, But First Mrs. Abernathy's Chicken"
Harry Turner
"A City-wide Riot"
Jack Bowden, Tom Carney, Juanita Crider, Thomas D'Alesandro III, John J. Darlington Jr., Thomas Donellan, Rashida Foreman-Bey, Dorothy Lamour Hurst, Lillie Hyman, Marvin Mandel, The Pats Family, Louis Randall, Ruth Stewart, Susan White-Bowden, "Little Melvin" Douglas Williams
"Remembering the Baltimore Riots, Oral Histories"
Anne Horn Ballard, Jackie Belt, Judy Callarman, Norma Chapman, Eugenia Collier, Avery Colt, Carol Deering, Chrystal J. Edwards, Blanche Farley, Stephanie B. Gibson, Ann Hennessy, Christine Higgins, Genevieve W. Mason, Arthur J. Magida, Pat Capps Mehaffey, Judy Gill Milford, Dorothy Schiff Shannon, Maryhelen Snyder, Jonathan Shorr, Hays Traylor
"Remembering the Movement"
Mary Azrael, Kendra Kopelke, editors. Pantea Amin Tofangchi, design.