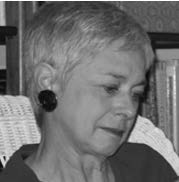 Three women of WWII, with poems by Diane Dees, E. Laura Golberg and Shirley Brewer.
6 minutes
TRANSCRIPT
This episode commemorates Memorial Day, the day on which we remember the men and women who died fighting for this country. Memorial Day was first observed in 1868 to honor the sacrifices of Civil War soldiers. For a long time it was called Decoration Day. It was the day that we collectively decorated veterans' graves with flowers. In 1967, the holiday's name was officially changed to Memorial Day. And in 1970, its date was changed from May 30 to the last Monday in May. We're going to mark the day with three poems about women and WWII's effect on them.
Diane Dees said that when she was a child, her mother told her lots of stories about living in London during WWII. Here's Diane Dees' poem "My Mother Sews Hats."
Propaganda swing screeches from Radio Hamburg;
a drunken Haw-Haw mimics Churchill as buzz bombs
drone by, while my mother sews hats
for soldiers. Seams perfect, folds to the quarter-inch;
each has to pass rigid inspection; perfect hats for England's
finest. The Germans ban swing music, but in England,
Charlie and his Orchestra jazz "Let's go bombing"
while my mother sews hats for soldiers.
She loves three men: her brother, her fiance
and her brother-in-law. Two of them are at the front.
She carries their photographs; they look stunning
in their stern resolve and perfect hats.
My mother is untermenschen – her brothers and sisters
in God riding on slow trains. She hears that Hitler buries
people alive. She will tell this tale her whole life,
even to a child who craves a bedtime story.
In the West End, ladies headed for the theater
wear tin hats to deflect missiles. Sometimes at night,
my mother goes to tea dances, where big band
sounds are drowned out by sirens, and dancers fox trot
to the Underground, like people buried alive. Some
come up for air and never come back. Others
live to spend another day sewing hats for soldiers.
My mother writes poems and plots schemes while
Charlie sings "Let's go shelling where they're dwelling."
She puts out fires with buckets of sand as Blitzkrieg
dust fills her lungs and dive bombers fill her past
with volcanic matter. Hope and Glory are obscured
by explosive clouds. Nothing is the way it used to be, but
the trains are still running in Poland. Building by
building, London comes down. Man by man,
soldiers go down, and my mother goes down
to the factory each day. A cup of tea, a letter,
a tidbit of gossip, an air raid, a funeral, a paycheck,
a turn of events. Every moment rings with meaning,
while my mother – who loves to sing and dance
and drink shandys on Saturday night –
who knows every lyric to every song, hums
with the radio as she sews hats for soldiers.
"My Mother Sews Hats, " Diane Dees, from 2005, Passager Issue 40.
Next, E. Laura Golberg's poem "Crewel."
My mother sewed air raids,
yellow zig zags, blue rumbles,
people running, red.
No language, but stitches
pulled in
and pulled out,
needle a tongue.
At thirty, she left England,
where she had hidden
in underground shelters
from fatal thunder –
hunger, the constant –
sailed home to Cape Town,
guavas, avocados, and quiet.
In that quiet a bus roared.
She shot under a table, crouched,
her left eye trembling.
That eye signaled trouble when
I was late coming home,
like the silence of a Doodlebug
before it exploded.
In her mind, she was shaking,
always in that air raid shelter.
I couldn't get her out.
The gossips,
stitching their own cloths,
labeled her crazy.
Silenced, she sewed.
"Crewel," E. Laura Golberg from Passager Issue 56.
And finally, Shirley Brewer's poem about a woman affected by war in another way. "The Bomber Pilot."
The dying sun perfumes her garden
a preponderance of red,
and petals she smoothes between her fingers.
His memory evokes the image of wings
singeing in slow motion.
The rose in her pocket burns.
Every night she hears
her love's final battle
over the boiling English sea.
After sixty years,
his name still burdens her tongue,
vowels so heavy
they droop against her jaw.
She tends her flowers:
children and grandchildren
who bear another man's name.
"The Bomber Pilot," Shirley Brewer, from her book A Little Breast Music.
To buy A Little Breast Music or to subscribe to or learn more about Passager and its commitment to writers over 50, go to passagerbooks.com.
You can download Burning Bright from Spotify, Apple and Google Podcasts, Audible, and a host of other podcast apps.
For Kendra, Mary, Christine, Rosanne, and the rest of the Passager staff, I'm Jon Shorr.