We are filling orders! Visit the online store to order any of our titles.
We're excited to give you Burning Bright, a weekly podcast presenting Poetry and Prose from Passager. If you'd like to listen in each week please sign up using the form at the bottom right of this page, or subscribe on Apple Podcasts, Spotify, and many other podcast apps.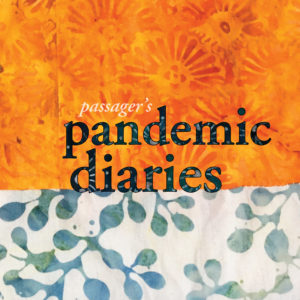 We also opened up a special reading period for submissions of diary entries written during the pandemic. Browse those archives here, published on our website weekly.
Virtual events are happening! Sign up for our email list at the bottom of this page to stay in the loop, or check in on our Events page.
As dedicated as ever to our over-50 writers we are adapting to new ways to bring these essential voices to you, continuing our mission to empower the imagination in older people by giving a forum for expression. Stay tuned!
Wishing you and yours health and happiness always,
The Passager Crew